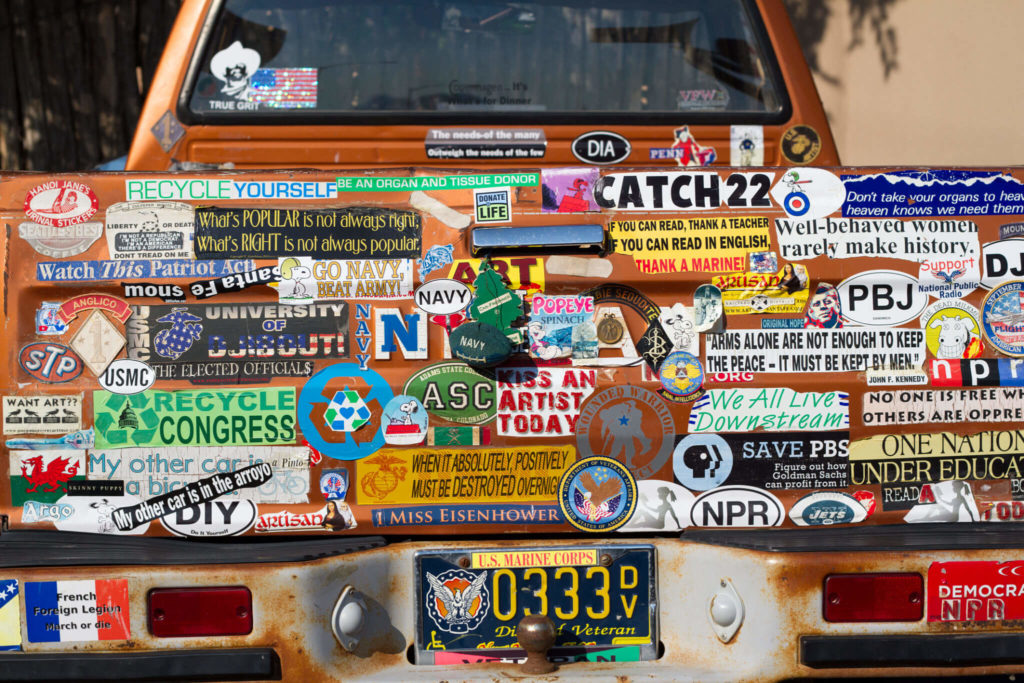 Perhaps the most crucial question to ask before determining the average bumper sticker size is "what is a bumper sticker?" Bumper stickers are defined as any durable exterior sticker that can be applied to the bumper of vehicles. It includes a wide variety of forms and sizes. However, traditionally, a "bumper sticker" has been defined as a large, rectangular sheet of printed vinyl with a design on it.
What is a Bumper Sticker?
The modern bumper sticker originally belonged to Forrest P. Gill, a screen printer in Kansas City, Missouri. As a result of World War II technology surpluses, Gill found himself with an excess of two items: fluorescent paint and adhesive-backed paper.
So, what really is a bumper sticker? It is a message on an adhesive sticker or label that is meant to be applied to the bumper of a vehicle and read by the drivers of other vehicles. Bumper stickers are also often applied to other things. The majority of standard bumper sticker dimensions are approximately 25.4 cm × 7.6 cm (10 in by 3 in) in size and are frequently made of PVC.
Bumper stickers can promote a business, a religion, a secular cause, or show support for a sports franchise or other group. The perspective they take on a specific philosophical or political issue could be either supportive or antagonistic. During election years in certain countries, like the United States, bumper stickers are a popular method to express support for a candidate running for a government position. In other countries, like the United Kingdom, they are not really seen in any shape or form.
Bumper stickers are more than just an advertising tool; they are a cult classic of pop culture. Durable and designed for outdoor use, bumper stickers have decorated millions of automobile bumpers and windscreens. As a result, they are the preferred option for almost any vehicle sticker application.
However, bumper sticker printing is not limited to automobiles. They are often used on computers, bicycle frames, office equipment, file cabinets, equipment bags, and luggage. Not all bumper stickers are for drivers. The stickers sizes may vary on the usage purpose of individuals. You can get an idea by looking at the bumper sticker template that is available online.
What is the Average Bumper Sticker Size?
You might wonder what size to use when buying custom-made bumper stickers. In that case, the answer depends on several variables, including how the sticker will be disseminated and the message or design that will be put on it. Bigger is not necessarily better, as shown by the fact that the average size of vehicle stickers has decreased over the past several decades. As more individuals have shown a reluctance to display big and distracting bumper stickers on their vehicles, the typical size of a bumper sticker has reduced. As a result, the usage of alternative sticker shapes, sizes, and designs has grown in popularity.
The simple answer is that there is no standard size if you are looking for a bumper sticker size. However, the 3" X 11.5" bumper sticker is the most popular or standard bumper sticker size. Even while we have the biggest stock size available, 3.75" X 15", these bigger sizes are becoming more seldom utilized. While many online retailers mention the 11.5″ x 3″ size as the most popular, this is hardly true. While the average height remains 3 inches, the average size is closer to 10 inches, with relatively few designs exceeding 11 inches in length due to the limitations of home printing and the requirement for full-bleed artwork.
Standard Car Decal Size
The standard car decal sizes and shapes are:
Rectangles: 5″ x 7″, or 3″ x 11.5″
Ovals: 5″ x 8″
Circles: 6″ – 8″ diameter
Octagons: cut from 8″ x 8″
Squares: 6″ – 8″
Triangles: cut from 8″ x 8″
What is "Full Bleed"?
In printing terms, "full-bleed" refers to an image that extends entirely to the medium's edge, leaving no blank space on the borders. It is less of a problem when printing a picture with a white background. However, a white border (or line) around the image will seem cheap and unprofessional when printing an image with a bright color scheme. Now that you know about bumper sticker size, let's discover the printing process.
Printing Bumper Stickers
Only the biggest and most costly printers can print complete bleed on media without trimming the paper's edges. These enormous printing machines cost several hundred thousand dollars and often fit only in warehouse-sized areas. However, the vast majority of printing is done on smaller, less costly printers. These printers' mechanical operations need a tiny quantity of unlabeled medium around the printed artwork/image. To circumvent this, print industry experts simply print an image on bigger media than required and then trim the excess border to produce a full-bleed artwork.
Home-based bumper sticker printing is no different. In the United States, the typical home printer prints on standard letter paper, which measures 8.5″ x 11″. Due to these specifications, no bumper sticker measuring 11.5 inches in length may be printed. Likewise, no sticker measuring 11 inches in length will have full-bleed color. Due to these limitations, many small artists print bumper stickers in 3″ x 10″ proportions and then cut them down from letter size to get a full bleed design.
There is little to no difference in functionality between a 10 inch and 11.5-inch bumper sticker. The artwork's and design's quality will take priority over the length, and as more boutique artists make their customized bumper stickers, the 3″ x 10″ style is becoming increasingly popular. Also, you can get preprinted bumper sticker labels online, which can save you the designing process.
Removing Bumper Stickers
On the back of the detachable liner of the first bumper stickers, written instructions were attached to the car's bumper. Because of the vehicle's movement and the fluctuating climate conditions, the sticker had to stick effectively to the surface of the bumper.
There are specific bumper stickers that are "simple to remove" and magnetic bumper stickers. With a sharp knife, penetrating oil, or a heat gun, you can remove bumper stickers from your vehicle. Home remedies may also involve using everyday materials found in the home, like paint thinner or WD-40.
Obscene Bumper Stickers Laws
Several states have enacted legislation prohibiting the exhibition of indecent bumper stickers. For instance:
The exhibition of "obscene or blatantly objectionable bumper stickers" is prohibited under Tennessee law.
Alabama law bans the use of "obscene terminology of erotic or excretory acts" on bumper stickers.
Likewise, a South Carolina statute bans the exhibition of vulgar or "indecent" bumper stickers. Violations may result in a fine of up to $200.
The legality of criminalizing bumper stickers remains highly controversial since it is difficult to conceive a bumper sticker that fits the legal criteria of obscenity.
Conclusion
More bumper sticker sizes and ideas are available today than ever before, so you do not have to rely on costly printing services to create your own. There are customizable and printable vinyl sheets that work with practically any home printer, allowing you to create your own unique stickers to share with the world.