After you've lovingly made a product to go inside of a glass jar, whether that be jam, honey, or a homemade candle and everything in between, your product is ready to sell all but for one thing: a label! Packaging and labelling have always been essential tools in marketing as they are used by several businesses from different sectors around the world. In increasing brand visibility, brand royalty, and brand love, product labels play a critical role. But, most importantly, it can help improve any product's market demand.
Whenever you produce a product, you should communicate the value of the product to the customers. Using product labelling is one such way to do that. It is one of the key mediums of communication between the product and the consumer.
The labelling of a product contains extremely vital information that is printed on the packaging of the product. This enables the customer to differentiate from one brand to another and could make the world of difference when you're trying to sell your product.
Why Jar Labels Are Important For Your Products and Projects
When you're trying to sell a product, there are a multitude of different things you need to think about such as potential allergens, safety precautions, and any information required to be displayed by the law. For example, alcohol displays warnings required by the law alerting people to the dangers of drinking too much and recommends a daily allowance for men and women.
As the creator of the product, it's your responsibility to think about your jar labelling and anything potential customers should know about your product. For example, if you're selling a homemade candle on Etsy, you should consider having warning labels printed with precautions that the end user should take such as keeping candles away from children and not leaving it unattended. Doing this not only protects the health and safety of your customers, but also protects you and your new business from a lawsuit.
A product label can market the product all on its own. Consumers can be drawn to a brightly colored label and end up buying that item. If your product has a unique label, a product can be essential to helping a customer choose your product over the other competing products on the shelf. With today's technology and advancements in label manufacturing, labels are now used for cross-brand marketing, sweepstakes, recipe information, gaming, and couponing, and that's something else you may want to consider to help sell your product more efficiently.
What Kind of Jar Label Do You Need?
So, you've made your product, you've researched the importance of jar labelling, but what now? The next step in the process is very exciting, as this is where you get to decide what kind of label you're going to use on your jar. Here at laserinkjetlabels.com, we have labels that you can use for honey jars, candle jars, peanut butter jars, salsa jars, hot sauce or any other product you jar. We print these in a roll label format which allows you to apply these to your product by hand or we can set them up so you can have them automatically machine applied. From 1 to Full Color Printing, we'll help you make your product look it's best. We'll even help with the design. Here are some examples of labels you can choose from.
Clear gloss labels For Jars
Clear gloss labels are an excellent choice for jar labels because they allow the consumer to see the product in its entirety if your jar is completely transparent. Being able to see the product before purchasing is a major bonus for many consumers. Not only that, but the smooth finish of clear gloss labels also makes the product feel super premium which will leave your customers satisfied that they got more than what they've paid for.
Brown Kraft Jar Labels
Do you remember going to the grocery store and getting your groceries in brown paper bags? Well, the research team at Laser Inkjet Labels found this material and turned them into labels. These recycled brown kraft labels have become very popular with people making candles, soaps, wines and other products where a rustic and aged look is desirable.
Our natural kraft labels are made using a slightly darker brown kraft paper which has better inkjet printability than the lighter types, allowing your inkjet inks to hold a defined shape better.
Fluorescent Colored Jar Labels
Fluorescent labels are brightly colored sheets, sometimes known as neon-colored labels or day-glow colored labels. Fluorescent sheets come in green, yellow, orange, red and pink. They are top coated for use through inkjet printers, which allow for an instant dry to the touch surface that won't smear. They'll help draw the attention of potential customers if you've got a bright logo or product design label to go on your jar.
White Removable Jar Labels
Our white uncoated removable labels are made using a specially designed adhesive that allows the label to have the characteristics of a permanent adhesive but can be removed so as to not tear the label or leave residue behind. These are often a popular choice for jars with a pretty design that the consumer may want to reuse after the product has finished.
100% Recycled Emerald Sand Jar Labels
Looking for something different to help make your product stand out from the crowd? Take a look at our Emerald Sand Label sheets which have a light green, tan color with small flecks of fiber that provide the labels with just a touch of a rustic look to them. Emerald Sand Labels are a perfect match for labelling candles and soaps as well as any other products that give you a homegrown, eco-friendly feel. They also add a touch of class and eye appeal to wine bottles, coffee bags, organic foods and natural beauty products. Emerald Sand Labels are a 100% recycled post-consumer waste product. They are a blend of repurposed coffee bean bag fiber combined with post-consumer waste material.
As you can see, we have a plethora of jar labels for you to consider. Don't forget that you can request a sample at any time to ensure you choose the right one for your product!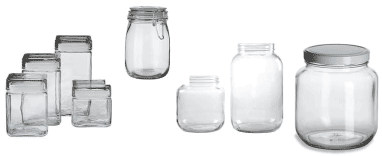 ---
Blank Inkjet/Laser Roll Labels:
For use in Primera® LX400. LX500 and Epson® C3400, C3500 inkjet roll label printers.

Click to View Sizes and Pricing
For use in Primera® LX600, LX810, LX910 and CX1000, CX2000; VIP® VP2020 and VP485; Afinia®, Rena®, MachX®, Colordyne®. Epson® C7500, C831 and many more inkjet roll label printers.

Click to View Sizes and Pricing
For use in all Inkjet Roll Label printers that can handle roll sizes with a minimum outside diameter of 8" like Afinia®, Rena®, MachX® and Colordyne® and many more roll label printers.

Click to View Sizes and Pricing
---
Blank Sheets of Laser & Inkjet Labels:
There's all kinds of labeling options, so let us help you find the label that is best for your jars.

Request Jar Labels Samples Here


-- Back to more Product Labels --