Bumper Stickers
Use bumper stickers to advertise your business, promote a cause or show your beliefs.
We custom print bumper stickers and ship within 72 hours of proof approval. A free digital proof will be emailed to you with each order. Bumper stickers can be printed on white vinyl, yellow vinyl or clear poly. Use one to four colors ink. All bumper stickers are laminated for extra longevity.
AMERICAN PRIDE STICKERS - American pride bumpers stickers are always a great hand out for your company. We can even print "Courtesy of "your company" on the liner or sticker.
SCHOOL SPIRIT STICKERS - Show your school spirit with bumper stickers. Great for fund raisers and supporting athletics, band, cheer, dance or academics.
FUND RAISER STICKERS - Bumper stickers are a great way to raise money and awareness for your favorite cause, be it Boy Scouts, Brownie Troops, Cancer Awareness or local events.
PROMOTIONAL STICKERS - Print bumper stickers to promote your business. Great for radio stations, non-profit businesses and turist areas.
POLITCAL STICKERS - Political campaigns are won in a big part by exposure. Get your candidates name out there with bumper stickers. Have a message you want to spread? Do it with a bumper sticker.
Check out our Custom Printed Bumper Stickers Section for sizes and pricing.
or
<BACK>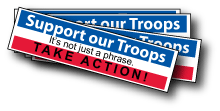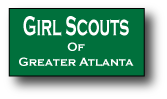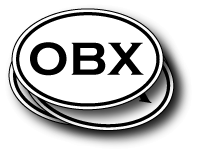 ---
Understanding the differences in bumper sticker pricing:
Why does pricing range so greatly on bumper stickers? The answer is due to all the variables that are available to us manufactures. Let's start first with the unofficial definition of a bumper sticker, which would be any adhesive backed product that has printing and is placed on a car. It sounds simple, but when you consider the variables of face stock, adhesive type, printing method, ink types and lamination, prices will vary greatly.
Types of Material:
The first thing one should look for when determining where to purchase bumper stickers would be the type of material being used. Is the company quoting a paper label, white poly or a white vinyl? And within each of these choices, what is the thickness of the material? Consider the function of your bumper sticker in order to get the correct material. Is it a practicle joke, a cheap hand out or something you want to put on a vehicle that will last years?
Types of Adhesive:
Bumper stickers and/or window stickers can made using several different adhesive types, permanent, removable, ultra repositionable and static cling. In most cases, a permanent adhesive is not recommended as they are too sticky. Instead, using a removable adhesive will allow you to place the sticker on the car, then peal it up right away if it was applied crooked, allowing you to reapply it straight. Removable adhesive will then set up so that the label will stay but leave little residue when it is pealed off months later. If you are using the stickers on a window, an ultra repositionable label or static cling label would be preferable. If it is a small label, use the static cling but for labels above the size of 4 x 4, it is recommended to use the ultra-repositionable. Both the static cling and ultra repostionable labels can be removed and re-applied multiple times without leaving any residue.
Printing Method:
Knowing the printing method used may be the most important part to know when shopping around for bumper stickers as the printing type determines both price and sticker life.
If your bumper sticker is being printed digitally, using a laser or inkjet printer, you should get quoted a very low price. In exchange for that low price, you will also receive a sticker with an extremely low outdoor life span, probably less than 3 months and certainly less than 6 months.
Another way bumper stickers are printed is by using flexography presses. In this method, plates are created that roll ink onto the substrate. Depending on the inks being used, these stickers can last 1 to multiple years.
Screen printing is another way your bumper sticker can be manufactured. Using this method, ink can be applied very think, creating a color sticker that will definitely last for years. Depending on the quantity, screen printing can be very expensive.
Types of Inks:
There are usually varying ink option for each type of printing method. There are pigment inks, dye inks, non-opaque and opaque inks. Inks can have Ultra Violet properties and other properties added that can make the color last longer.
Types of Lamination:
There are spray on and film lamination and each type can have a Ultra Violet agent in them as well. While a clear film with UV is the best type of laminate for bumper stickers, any type of lamination will help protect your bumper sticker and add longevity to it.
Remember, it is up to you to know what you are purchasing!