You put a lot of time, effort and care into making the best possible candles so why not do the same for your candle labels? Our high quality yet affordable label materials will help ensure that your candles look their best. We offer over 75 sizes in a variety of materials including semi-gloss, high gloss and brown kraft all to help you get just the look you desire. Whether it's a round label or your lid, rectangular label for your clam shell, square label for your tin side or oval shaped for you glass candle jar, you'll find an option with us!
Candle stickers are available for all different types of candle containers, jars and tins. Below are some of our most popular candle label sizes but feel free to look through all our labels for the perfect size for your candles. If you don't see the size or shape you need, just contact us to request a quote. Label templates and label design software are also available on our site in order to help you make the best-looking candle labels around!
Do you love candles, but aren't sure what to do with them? Are you looking to give a candle to a loved one but don't know where to begin? Do you make candles and want to begin selling them? Here are some candle label uses and designs to take into consideration when creating a candle label.
Candle label uses
Candle labels can be used for a multitude of different reasons, and you don't necessarily have to stick to just one label for your candle! If you're using a larger candle container such as a jar or a tin, you might choose to have two or three labels on your candle. Let's look at some candle label uses you might use.
Candle Personalization
One of the main reasons you may want to use a label for your candles is to personalise them, and this is particularly great if you're gifting a candle to a friend. You can print personalised names and messages for your chosen candle to make the gift giving that little bit more special.
Add warnings on the candle label
Candles don't come without danger, and when using candles, it's important the user knows how to use them safely. If you're a manufacturer or you've made some homemade candles that you'd like to give to a friend, printing warning labels will help keep the user safe. This can include fire safety rules such as not leaving the candle unattended, avoid using flammables around naked flames, and to always burn it within sight. Not only does this keep the user safe, but it can protect you as a business should an accident turn into a lawsuit. Print your own or get preprinted candle warning labels on a roll from us.
Place your company name and logo on the candle label
Perhaps you're a start-up business that's looking to find more ways of promoting their brand. Or maybe you've set up a personal store on Etsy to see how well your homemade candles will sell. Printing candle labels that will display your company name and logo will help your brand become more recognisable.
Indicate color and scent on the candle label
The scent and colour of a candle matters just as much as the shape and size - if not more. Printing these bits of information will not only increase the chance of someone picking your candle up in interest, but it will help bring customers back time and time again should they enjoy that particular scent and colour.
Let people know the burn time on the candle label
How long a candle burns is important, especially if the candle is being purchased for a special event such as a dinner party. Printing this information will be useful to the user.
Indicate what type of wax is used on the candle label
Listing what kind of wax you've used may be an important factor for some people. There are 7 main waxes to use and some people may want to avoid certain waxes because of how it's sourced. Beeswax, for example, is harvested from bees and for some, the protection of bees may mean they'd rather not buy candles made out of beeswax.
Designing candle labels
Candle labels are an essential element of the finished retail product and should have relevant information on them as well. You can then begin to think about personalising your printed candle labels once you have lovingly hand-poured your last drop of wax.
In the candle market, there are several innovative ideas for extending your market; customised wedding favours are an increasingly common idea, personalising every gift or concept is simply a way to add that little bit extra and if you can imagine it, you can print it! Printed candle labels, particularly for those with a larger diameter, are often round or circular.
You don't have to compromise on style with your candle labels, and you can customise yours to fit your container whether it's an oblong, a rectangle, or even perfectly spherical. You also don't have to compromise on colours or shapes, as you can buy a range of candle colours such as clear, white, brown and even fluorescent!
With over 75 shapes and sizes available, we're confident that you can find the right candle label for your product and successfully gift or sell your candles in the most professional looking way possible. Remember, if you can't see the size or shape, you'd like on this website, please get in touch with your specific sizes and we'll be happy to help!
Looking for Pre-printed Candle Warning Labels? Check out our list here: Candle Warning Labels. We can also custom print your candle labels.
Need a super aggressive adhesive, perhaps for the use of candles in environments with a higher moisture level such as a sauna or a spa room? Try our new Brown Kraft Labels. Just go to our normal Kraft section and use the drop-down box to select the Aggressive Adhesive option.
Take a look at our range of candle labels below to find the perfect size, shape and colour for the candles you've spent so long perfecting!
Need a super aggressive adhesive? Try our new Brown Kraft Labels. Just go to our normal Kraft section and use the drop down box to select the Aggressive Adhesive option.
Below you will find:
Price Tag Labels for Candles
Round Candle Labels
Square Candle Labels
Rectangular Candle Labels
---
Price Tag Labels for Candles:
---



1" Price Tag Circles
63 Labels/Page
7 Across
9 Down



1/2" x 1" Price Tags
120 Labels/Page
12 Across
10 Down



1" x 1.125" Price Tags
48 Labels/Page
6 Across
8 Down
---
Shaped Labels for Candle Jars:
---



1.67" Circles
24 Labels/Page
4 Across
6 Down


2.5" Circles
12 Labels/Page
3 Across
4 Down



3" Circles
6 Labels/Page
2 Across
3 Down



3.875" x 1.9375" Ovals
10 Labels/Page
2 Across
5 Down



4" x 2" Squared Oval
10 Labels/Page
2 Across
5 Down
---
Square Candle Labels:
---



2" x 2" Squares
20 Labels/Page
4 Across
4 Down



2.5" x 2.5"
12 Labels/Page
3 Across
4 Down
---
Rectangular Candle Labels:
---
View all potential Candle Labels here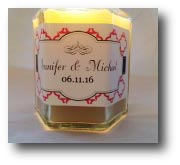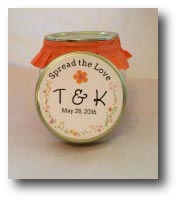 There's all kinds of candle labeling options, so let us help you find the label that is best for your application.
Request Candle Labels Sample Here