Create professional looking glossy labels at home using your inkjet or laser printer.
As Low as $28.49!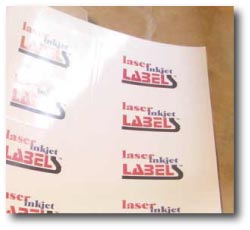 Our glossy white labels are made from a medium thickness sheet that allows for easy feeding through both laser and inkjet printers. The sheets are topcoated specifically for use with inkjet printers so that your inks instantly bond with the sheet, creating a smear-proof finish.
These white glossy labels are sold in 50 and 100 sheet packs and come in a variety of sizes and shapes including circles and ovals. Feel free to email us with your request for free samples.
From our customers:
"The glossy labels that I ordered gives a brighter more vibrant color than any matt finish labels. Great for photos." - Quincella
AND
"I received the sample sheet today, thank you so much. My first reaction is "wow." That is some quality laser inkjet label sheet! I think that should do an excellent job for the project I'm working on. I had a very color-intense image to print and it came out very clear with absolutely no bleeding/smearing or anything. It looks very durable too. There's a couple of other things I want to check and then figure out how many sheets I'll need but I am already quite impressed. As a matter of fact, I dripped some water on it earlier and at first it looked like it was reacting with it, like making it "bubble up" slightly but I just looked again and it's completely smooth." - Doug
AND
"I was hesitant to try your high gloss labels because they were cheaper in price from where I was currently purchasing them. Boy am I glad I did. Yours made my colors pop! The blacks were blacker and colors no longer looked so dull. Thank you for the wonderful product." - Emily
Click on the image below to view detailed label
information and pricing on all our White Gloss Label sizes.
Request White Gloss Label Samples Here
---
---