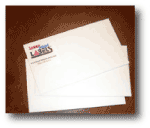 Are you looking for affordable address labels that are easy to use? LaserInkjetLabels has a variety of white labels that you can use through your laser printer or inkjet printer. These sheeted labels feature a bright white facestock for high contrast on with black ink and a water based permanent adhesive that in environmentally friendly. And since we use a quality, yet affordable white facestock for our label sheets, you can be assured you'll get a label that prints nicely, won't jam your printer and get it at a great price.
If you have a large database of names and addresses that you need to print to labels, there are a number of free resources that allow you to do it yourself. Use our labels and we can even show you how to set up MicroSoft Word® Or Excel® so that each address is printed on a separate label. You can learn to print all the labels at one time or print one label at a time as needed. Choose from standard address labels such as 2 5/8 x 1, 4 x 1, 4 x 2 or from any of our other stock sizes that works best for your envelope or package.
Looking for stamps? If you use Stamps.com® we can even supply you with sheets of blank labels for printing your own stamps. Take a look at Part# 1217, our 1.25" x 1.75" NetStamps® compatible white labels. Get 10 sheets for $7.20 and save huge over USPS's Stamps.com® online prices.
Popular Address Label sizes:
| 2 5/8 x 1 | 4 x 1 1/3 | 4 x 2 | 4 x 3 1/3 | Click-n-Ship | 1 1/4 x 1 3/4 |
| --- | --- | --- | --- | --- | --- |
| Part # 2610 | Part # 4013 | Part # 4020 | Part # 4033 | Part # ClickShip | Part # 1217 |
| Price = $12.49 / 100 Sheets | Price = $12.49 / 100 Sheets | Price = $12.49 / 100 Sheets | Price = $12.49 / 100 Sheets | Price = $11.99 / 100 Sheets | Price = $7.20 / 10 Sheets |
| | | | | | |
| View Pricing | View Pricing | View Pricing | View Pricing | View Pricing | View Pricing |
View all potential white address label sheets here.
The humble address label is one of those pieces of stationery that once you begin using, you will wonder how you ever managed to live without them. They are not just small rectangle stickers - they have a plethora of uses that can make life and business so much easier.
Obviously, the main use for them is what they are designed for: printing out addresses to put on envelopes and parcels. It does not matter whether they are for personal or commercial use, they are helpful and can save hours of handwriting address after address. For example, when you are writing out your Christmas card list, or thankyou cards, simply import the addresses from your digital contacts file, copy them onto the printable address labels and print them out. All you need to do is stick the labels - the ones from Laser Inkjet Labels are superb quality with permanent adhesive and a bright white face stock so black ink stands out sharply - onto your envelopes and away you go.
They are also ideal if you are sending out wedding invitations or party invitations. Not only are you needing to put your guest's addresses on their envelopes, but you more than likely are sending a pre-addressed envelope in for them to send back their RSVP. Who wants to write out their own address potentially hundreds of times? Imagine the wrist aches, pen smudges, and potential mistakes you would make doing it that way? No; you need a sheet of printable address labels and a few minutes - because that is literally all it takes - to put your names and addresses onto the templates, feed the stickers into the printer, hit print, and put them on the envelopes. Job is done!
Having printed address labels also takes away the potential of spelling errors, smudged pen ink, and unclear writing. Every time we send a letter, card, invitation, or a parcel with a handwritten address label, we risk the sorting office or the mailman or woman misreading our handwriting. We can also make spelling errors which can be costly if you realize after you have spent time writing straight onto the envelope or package as you need to use a new one. Personalized printed address labels remove all of those issues for you at a reasonable price.
If you run a business, whether a large scale one sending parcels and letters all over the world or a one-man (or woman!) band sending the odd thing out here and there printed address labels look much more professional than handwritten ones. Printed ones can be part of your branding strategy, showing that you take care in everything that you do and insisting on the highest quality and standards.
So - that's the most obvious uses of printable address labels coveted, but are there any other ways you can use these versatile little rectangles? Let's take a look!
Address Labels For Your Personal Effects
They might be called address labels, but there is no reason why you can't just put your name or your name and a contact number on them. How you design your address labels is entirely up to you. One way in which they could be used is by putting your details on and putting them on the inside of your purse, gym bag, briefcase, or school bag. While the address labels have a sturdy waterproof adhesive, it is advisable to cover them in a piece of clear packing tape or sticking tape to protect them from wear and stick it to the inside. Obviously, make sure you do not put your address anywhere where your keys might be kept!
Using Address Labels For Home and Office Sorting and Organization
Planning on having a big home or office sort out? Come up with some sort of key - perhaps green spots for keep, orange spots for storage, and red spots for disposal, and print out your address labels with the appropriately colored keys on them. Use them to sort out your belongings or furniture. Sticky notes have a tendency to fall off, leaving you or your co-workers confused as to what you are supposed to do with it, and other forms of marking can cause damage or be more permanent. Our address labels are sticky enough to stay attached but easy enough to be removed when needed.
Address Labels For Organizing Files and Folders
Look up at that shelf of files. You need to know which file holds what information, right? Most files come with a little piece of paper in a slot for you to write on to identify the contents, but what happens when it changes purpose? Instead of attaching bits of scrappy paper with handwritten labels, give your office shelves some professional cohesion with printed address labels to identify what is in them.
Using Address Labels As Gift Tags
Purpose made gift tags can be expensive. They can also lack personalization, they never quite give you enough room to write your message or name, and they always lack the level of adhesiveness needed. There is nothing worse than a pile of presents under the Christmas tree with labels missing - it can be embarrassing not knowing who a gift is from! Use address labels to print off your own gift tags - you can use fancy fonts and make them look as cute or as simple as you want. They are guaranteed to stay stuck on too.
Using Address Labels To Identify Items You Lend Out
Fed up with lending things out for them never to be returned? There is a good chance that when it comes to items such as DVDs, CDs, or books the borrower has totally forgotten who lent them. Add an address label to the inside covers with your name and address on, so that while there are never any guarantees, there is a much better chance of your belongings coming back to you at some point.
A set of printable address labels is something that everyone should have in their stash of stationery. They are truly versatile and can be used for so many purposes - we would be interested to find out how you use them.
Request Address Labels Samples Here
Are you familiar with the USPS's guidelines for printing an address label?


Click here