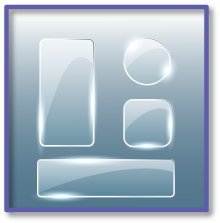 Clear Glossy Labels for Inkjet & Laser Printers
Why Choose Clear Glossy Labels
In other contexts, think about the effect of gloss: car paint, lipstick, nail polish. Overall, gloss makes them brighter, more vibrant, and shinier. This reflects light, drawing in the eye to its surface. The high-contrast effect it produces makes the lights lighter and darker shades appear darker. As a result, for colourful photographs and images with small details, a gloss finish is ideal. While communicating a sense of sophistication and value with its brilliance, it makes colours and images really pop.
The same logic is applied to labels. For your brand colours to jump off the page, and for your product to be seen as highly professional and polished, you want your products to catch the eye of consumers. Glossy labels are the answer for this. They're smooth and premium grade to the touch. They even give your product a polished and clean "no label look," comparable to printing directly on the surface. They provide an affordable price tag with fantastic visual appeal.
They are printable from any inkjet or laser printer and are capable of producing the same high-quality results that commercial printers would produce. For a long-lasting and smudge-free label, the glossy face stock is also better for holding ink.
Be sure to take into consideration what the container or packaging of your product looks like, though. A gloss label will actually cancel out a matt finish, instead of complementing a matt container. Gloss labels look best on bottles and jars that are as shiny and reflective as they are, so you want them to match. For branding cosmetic goods, glassware and aluminium containers, clear glossy labels are very successful.
Using the item to provide the contrast is an interesting effect that can be achieved using transparent labelling. If a clear plastic or glass is used and the label is also transparent with white printing on it, it would be difficult to see the text or logo as it stands, but if the product inside is dark, the label would then become easily readable.
Uses for clear glossy labels
Clear glossy labels give the impression there's no label at all
Have you ever picked up a product and assumed that the print was directly onto the packaging? When brands print directly onto a jar or bottle, it gives off the impression that it's a product worth having. A clear glossy label won't leave any frostiness on your product, giving off the impression that there's no label at all. This will help increase the aesthetics of your product and therefore, will help your product sell.
Clear glossy labels allow potential customers to clearly see the product
Using clear gloss labels for your products is not only aesthetically pleasing, but it's also very convenient to potential customers too. This is because they're able to see more of the product inside of the packaging (providing its clear glass or plastic), and this is an appealing trait when buying or trying out a new product.
Alternatively, if you're using a clear glossy label on packaging that's not transparent, such as aluminium bottles or tins, using a clear glossy label helps show off the finish of the packaging, furthermore, making it appealing to potential customers.
Clear glossy labels make for a smooth finish making the product feel premium
How a product feels when you pick it up affects the decision on whether to buy or not. It's not the main factor, but it definitely plays its part and using clear glossy labels is a great way of adding a pleasing feel to your product. A smooth label will also make your product feel more premium and if your pricing is right, your product has a lot of potential to make sales.
Use clear glossy labels for store window or car advertisements
While clear glossy labels are generally used for products, they can be used in other places with smooth surfaces such as store windows or car windows for advertisement purposes, without being too much of an eyesore on your car or store window. You can print 8.5"x11" clear glossy labels to display anywhere with a smooth surface. While we believe we have the clearest labels on the market, some surfaces may cause the label to look a little cloudier than others. It is always recommended to request and test samples prior to purchasing.
If you're using clear laser labels, they can be used indoors or even outdoor (weather-resistant not weatherproof applications) for short periods of time. As with any printed label, outdoor labels need to be varnished or laminated after printing to truly be a weatherproof label. This means that with the right application, you could use your clear glossy labels for subtle advertisement purposes too.
Nearly anything can be printed on clear glossy labels
One of the best things about clear labels is that there are no restrictions on what you can print onto them! If your company logo and name is bright and beautiful, you won't have to compromise on the quality of your printed labels.
Clear laser labels are designed for all monochrome laser printers but may work just fine with your color laser printer. The technology used in color laser printers are somewhat different from printer manufacturer to manufacturer. Please request samples for testing to determine if this product will work with your printer type. Toner anchorage, or lack thereof, is what you will be testing.
On most inkjet printers, the inks will be dry to the touch as soon as the sheet leaves the inkjet printer, but on some inkjet printers, a curing time may be required for the inks to "harden". It is our experience that over a short period of time, say overnight, inks may even harden enough for the labels to be smudge proof.
We are confident that our glossy labels are the clearest on the market, and you can request samples from us at any time. Get in touch for more information!
---
Click enter to view detailed label information and pricing on all our Glossy Clear Labels - Inkjet Sizes or here for our Glossy Clear Labels - Laser Sizes.


Clear Glossy Labels - Inkjet


Clear Glossy Labels - Laser
---
From our customers:

"I just wanted to say that I LOVED THE CLEAR LABELS SAMPLES! I will DEFINITELY be ordering from you guys from now on." - Ruxandra
AND
"I really enjoyed the clear labels and they exceeded our expectations." - Louise
---
Other adjectives customers have used to describe these clear labels: absolutely clear labels, ultra clear labels, invisible labels and truly clear labels.
See for yourself. Request Clear Glossy Labels Samples Here
Click enter to view detailed label information and pricing on all our Glossy Clear Labels - Inkjet Sizes or here for our Glossy Clear Labels - Laser Sizes.
---
---