Do you remember going to the grocery store and getting your groceries in brown paper bags? Well the research team at LaserInkjetLabels found this material and turned them into labels. These recycled brown kraft labels have become very popular with people making candles, soaps, wines and other products where a rustic and aged look is desirable.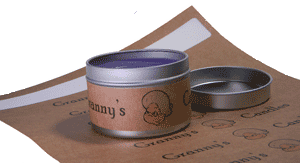 Our natural kraft labels are made using a slightly darker brown kraft paper which has better inkjet printability than the lighter types, allowing your inkjet inks to hold a defined shape better. We also use a different adhesive than other manufactures, which is specifically designed to be more aggressive and have better adhesion on most surfaces. The overall thickness of kraft labels is 7.5 mils.
Now available with EXTRA AGGRESSIVE ADHESIVE. The color of our Brown Kraft using the extra aggressive adhesive option tends to be lighter and have more of a matte finish.