Inkjet Labels
In a world of dime-a-dozen, cheap and inferior labels, your dime just met its match. LaserInkjetLabels sells only the highest quality inkjet labels for any number of business applications. You'll also find professional grade pressure sensitive labels, round inkjet labels, and photo glossy label sheets in our inventory - among a wide range of other high-quality, cost-effective labels. LaserInkjetLabels' inkjet and pressure sensitive labels run smoothly through your color inkjet and color laser printers, color copiers and offset printing machines without jamming. We offer over 75 different inkjet sheet label sizes and all sizes are currently available on over a dozen different inkjet printable materials.
Looking for inkjet printable roll label stock? LaserInkjetLabels.com offers roll labels for most of today's popular roll label printers. We have small rolls on 2" cores, single rolls on 3" core with 6" max outside roll diameter and we even offer cases of rolls on 3" cores with 8" outside diameter, which double the lenght of the roll of our 6" OD stock. All these label configurations are available in 6 different types of materials, allowing you to present just the look you want.
We have downloadable templates available on our Templates page and we'll gladly provide samples upon request using our Customer Service page.
List of links to each of our specific inkjet labels:

View White Uncoated Label sizes
View White Removable Label sizes
View White Semi-Gloss Label sizes
View White High Gloss Label sizes
View Brown Kraft Label sizes
View Clear Glossy Inkjet Label sizes
View White PolyGloss sizes
View Fluorescent Label sizes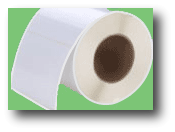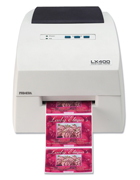 Request Inkjet Labels Stock Samples Here