Inkjet Roll Labels

---

---

Roll Labels on 2" Core w/ 4 " Outside Roll Diameter
Sold by the Roll
Can be used in:

Epson C3400, C3500 and C4000

Click for detailed pricing and sizes on our Epson® C3400 labels.

LX400 Click for detailed pricing and sizes on our Primera® LX400 labels.

LX500 Click for detailed pricing and sizes on our Primera® LX500 labels.

LX600 Click for detailed pricing and sizes on our Primera® LX600 labels

---

---

Roll Labels on 3" Core w/ 6" Outside Roll Diameter
Sold by the Roll
Can be used in:

LX810/LX900/CX1000/CX2000 Click for detailed pricing and sizes on our 6" OD rolls of Primera® LX810, LX900 & CX1000 labels.
VP2020/VP485 Click for detailed pricing and sizes on our 6" OD rolls of VIP® 2020 labels.
Afinia Label Printers: L301 Click for detailed pricing and sizes on our 6" OD rolls of Afinia® Labels
Rena MachX Click for detailed pricing and sizes on our 6" OD rolls of Rena MachX® Labels
Memjet Technology Click for detailed pricing and sizes on our 6" OD rolls of Memjet® Labels

Colordyne Inkjet Printers Click for detailed pricing and sizes on our 6" OD rolls of Colordyne® Labels

Epson Colorworks C6500 Click for detailed pricing and sizes on our 6" OD rolls of Memjet® Labels

---

---

Roll Labels on 3" Core w/ 8" Outside Roll Diameter
Sold by the Carton
Can be used in:

Rena MachX Click for detailed pricing and sizes on our 8" OD rolls of Rena MachX® Labels
Epson Colorworks C6000, C6500 and C7500 Inkjet Printers Click for detailed pricing and sizes on our 8" OD rolls of Colordyne® Labels
Memjet Technology Click for detailed pricing and sizes on our 8" OD rolls of Memjet® Labels
Colordyne Inkjet Printers Click for detailed pricing and sizes on our 8" OD rolls of Colordyne® Labels
VIP VP600, VP650, VP700 and VP710 Inkjet Printers Click for detailed pricing and sizes on our 8" OD rolls of VP700 Labels
Afinia Inkjet Printers L501 and L801 Click for detailed pricing and sizes on our 8" OD rolls of Afinia® Labels
---
---
---
Introducing LaserInkjetLabels ViVid® LabelLine Roll Labels for Inkjet *Roll Label Printers
In this section you'll find White Uncoated, White Semi-Gloss, White ViVidGloss, Brown Kraft colored labels and our water-resistant White PolyGloss Labels. The inkjet roll labels in this section are categorized by core size and outside diameter. Some popular machines our labels are designed to be run through are Primera® LX400, LX810, LX900 and CX1000, Epson® C3400 as well as the VIPColor Technologies® VP2020 and VP485 roll inkjet printers, Afinia® and Rena® inkjet printers. LX400 labels are run on 2" cores, while labels for all the other inkjet printers are wound on 3" cores and have varying numbers of labels per roll measuring an outside diameter of about either 6" or 8". All our inkjet roll label face stocks come with a general purpose permanent adhesive.
Our White ViVidGloss photo inkjet roll labels produce brighter colors, deeper blacks and a more defined image than normal roll inkjet labels. Get a competitive advantage for your products using ViVid® LabelLine inkjet labels. Save money while creating a superior looking label.
View The ViVid difference. Enjoy the ViVid value.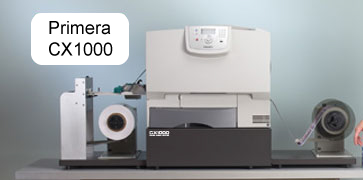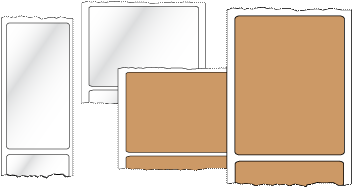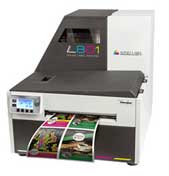 ---

*LaserInkjetLabels creates labels we believe will run satifactorily in the machines listed and depicted. All machines, logos and images are for reference only. LaserInkjetLabels is not an authorized dealer nor affiliate of any of the companies represented. We are a custom label manufacturer offering an alternative source to meet your specific operational and application needs. We use quality label materials converted into label configurations that we believe, after thorough testing in many such machines by us and many of our customers, will run smoothly through many of these and other roll label printing machines. It is strongly recommended to request samples for testing in your specific printer and application.