Ply-able & Water-resistant Inkjet Labels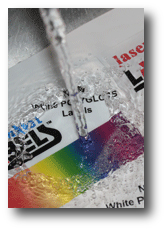 If you need to run a small amount of waterproof labels for a demo, sample or mock-up for a new product, these White PolyGloss labels on sheets just may be the perfect solution. PolyGloss Labels are sold 12, 25 and 50 sheet packs and come in a variety of sizes and shapes including squares, circles and ovals. Common uses for these labels are CBD vials, fragrance bottle labels, pharmaceutical labels, water bottle labels and any other bottle labels were you don't want the ink to smear when gotten wet. These sheets have been know to work well through many desktop inkjet printers including Epson and HP models.
See more pictures of the polygloss labels in action here.
White we are confident our labels work in most printers, we highly recommend that you request White PolyGloss Labels samples so that you can test for yourself through your printer and for your application.
Click on the image above to see a video on our PolyGloss Labels
or below to view detailed label information and pricing on all our PolyGloss label sizes.

Testimonials:
"Just wanted to let you know that we absolutely love your polygloss labels. I have been using them for a few months now. They not only go through my printer without a problem, but they make our design pop! They have been used on glass and plastic honey jars and they stick nicely! The gentlemen I dealt with when we first ordered, was very helpful! Thanks for a great product and great Customer Service. " - Angela in NY


"Thanks for the free sample. It gave me the opportunity to see prior to my purchase that the quality and pricing of your labels greatly surpass those I'd had with Avery. Your labels give my small business product the appearance that is normally only seen on top end expensive merchandise. It looks professionally printed instead of my label created with photoshop and printed on my HP $100 inkjet. Absolutely no smudges, even after pouring oil over and firmly rubbing with my fingers. A quick rub with a paper towel totally removed the oil leaving only the brilliant gleam and shine of before. As long as you keep up this type of work and fast shipping you definitely have a new customer for life. Your free sample made me a believer. Thank you!" - Eudonice in FL
---
---