Create professional looking labels for less using your inkjet printer.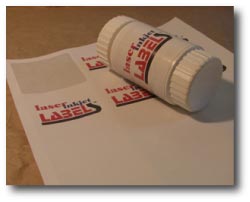 Our white semi-gloss inkjet labels are made for those that want a label that doesn't have a dull matte finish but yet don't want the high glossy look either. Semi-Gloss Labels are the perfect in between, having a medium sheen / luster to them that creates a nice, professional looking product label. All sheets use a permanent adhesive that is designed to adhere to most smooth surfaces.
Inkjet printable semi-glossy labels are sold in 100 sheet packs and come in a variety of sizes and shapes including circles and ovals. As not every inkjet printer uses the same technology for transferring ink or the same types of inks, so sampling is always recommended to test for printing quality and adhesive comparability. Our testing has shown that Pigment based inkjet cartridges work best on our semi-gloss labels. (See our Pigment Based Cartridge page for more information). To request your free samples go to our Contact Us page and fill out the handy sample request form.
Request White Semi-Gloss Inkjet Labels Stock Samples Here
---
---