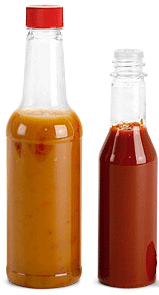 Do you know that customers can easily skip your product on the shelves even if they intended to buy it? Labeling goes a long way to ensure that your brand's image is visible. For instance, branding Hot Sauce Labels can make customers recognize the bottle from afar. It also makes it easy for them to remember the product's name. Remember, labeling is just as important as your name in the customer's eyes. They define products by their labels.
Defining your brand in everything you do is a sure marketing strategy that will make consumers trust the product. Here is everything you need to know to step up your packaging game and win consumer loyalty.
At Laser Inkjet Labels, we have three different labels for three different sizes of bottles. We have labels for 5, 8, and 10 ounce bottles. These are great labels for either plastic or glass bottles that you choose to private label.
Various Uses for Hot Sauce Labels
Your labels embody who you are and motivates consumers to try your product. For instance, customized product labeling embeds your logo and the brand name of the product. If you have a classy bottle design, it will go a long way in making the product stand out among others on the shelves. Other uses of brand labels include the following:
1. Creating the Brand Name
Brand labels target both new and loyal customers. When they buy a hot sauce with your company's name on it, it reassures your side's quality reputation. Consumers see your company's name as the synonym of quality. They'll quickly identify with products that bear the company's logo and name. Most importantly, they will be your indirect brand ambassadors. Besides other prospective customers seeing the products on their home shelves, customers will always talk about their favorite hot sauce brands in nearly all gatherings.
2. Trust Building
Branding your company's name on a product proves that you are responsible for all the safety and quality measures to enhance the customer experience. It also demonstrates that you're proud to process or associate with the product. Brand labeling encourages consumers to trust the product without questions. Trust builds brand loyalty, which means more business and revenues.
3. Virtual Monopoly
As noted, customers can take your product anywhere in the country and talk about it. High-quality brand labels make your product visible to other prospective consumers. If the bottle's content is also forthcoming in terms of quality, you'll have a virtual monopoly. Consumers' buying decisions get influenced by other positive anecdotal accounts that a product holds.
4. Customer Loyalty
Customer loyalty is the basis of success for any company. With your name and logo on the product, consumers will always demonstrate the same unwavering trust they had when launching the product. They'll quickly make informed buying decisions since they know the quality level to expect in products with your logo.
5. Competitive Advantage
Another advantage of private brand labeling is that it allows you to set and display your prices through the labels. Having control in pricing and marketing is something that your rivals will hardly match. It also gives you control over selling and distribution. Such a price strategy enhances revenues and the brand's perpetual existence.
How to Design a Hot Sauce Brand Label
Having the idea of customized labels is one thing, but putting it to practice is another. You need a label that will speak for itself and play the marketing role. You also want a unique label that no rival company can mimic. How do you design Hot Sauce Labels? Here are some useful customization tips for designing a brand label:
1. Color
When designing a label, the first thing that you should consider is the color. Attractive colors increase your product's visibility by up to 80%. An excellent example of a business that uses colors to enhance visibility is Google. The Google Chrome icon has a rainbow pattern that quickly gives it away without mentioning the word "Google" or letter "G." Be creative with colors, and customers will embrace the product.
2. Material
Consumers are increasingly becoming aware of their role in achieving a greener world. They are wary of product materials that reverse the efforts of minimizing earth pollution. Getting a label material that is eco-friendly and organic portrays a good brand image. Consumers will quickly opt for natural fiber labels compared to plastics.
3. Core Values
What are the core values that your company believes in? Would you want to share your vision and mission statements with customers? You should incorporate the company's core values into the label design. That will make your brand stand out, especially if the message spreads some love. For instance, family-focused core values will do well with sauce labels. Sauce products are universal and mainly shared among families. Consumers will readily identify with a product that encourages them to forge unity at family levels.
4. Shapeshifting
Matching your labels' shape with the product's content will attract the gaze of any passerby. For instance, if your hot sauce feels like pepper, why not design a label that mimics a pepper's shape? Designing labels is about being unique with shapes and font to enhance more visibility.
5. Modern Designs
Lastly, you might also want to incorporate a modern label design. Customers will often associate the label's look with the product's freshness. If your label is old, they'll likely mistake the products as part of the outdated stock clearance, no matter how fresh they may be. An outdated label is a turn-off when it comes to hot sauce.
Besides having a unique label, it will also help if you rebrand and change the designs periodically, say after every few years. Don't make the mistake of assuming that labels are timeless. Consumers are always watching out for aesthetic changes.
Wrapping It Up
You've seen how much high-quality brand labels can do for your product. Don't hesitate to adopt a new branding that will sell your hot sauce effortlessly. Most importantly, keep everything unique, including the bottle design. Not all consumers get fascinated by colorful labels. If the packaging doesn't appeal to them aesthetically, they'll likely pass the product. It will also help if you provide real-time customer services that consumers can use to connect with the brand. Not all customers calling the customer service line want to lodge complaints about the product. Some just want to commend you for good labels!
View Hot Sauce Bottle Labels below:
5 oz Hot Sauce Bottle Labels
8 oz Hot Sauce Bottle Labels
10 oz Hot Sauce Bottle Labels
---
5 oz Hot Sauce Bottle Labels:
---
---
8 oz Hot Sauce Bottle Labels:
---



4" x 3.33"
6 Labels/Page
2 Across
10 Down



4" x 5"
4 Labels/Page
2 Across
2 Down
---
10 oz Hot Sauce Bottle Labels:
---



3" x 5"
4 Labels/Page
2 Across
2 Down



4" x 3.33"
6 Labels/Page
2 Across
3 Down



6" x 2"
5 Labels/Page
1 Across
5 Down
View all potential Hot Sauce Labels Here
There's all kinds of labeling options, so let us help you find the label that is best labels for your Hot Sauce bottles.
Request Hot Sauce Bottle Labels Sample Here


<BACK>