White PolyGloss Labels - 2.75" x 1.5"
Glossy White, Ply-able & Water-resistant Inkjet Labels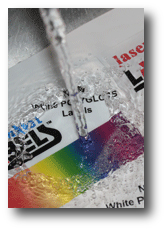 Look no further! LaserInkjetLabels.com is proud to introduce the first Inkjet Printable, Glossy White Poly material that is surprisingly ply-able and extremely water-resistant. We've researched long and hard to develop an inkjet printable sheet that allows small businesses and home based operations to be able to inkjet print their own labels that have similar characteristics to custom printed and varnished labels. Being extremely ply able, these thin poly labels will conform and adhere to more oddly shaped applications than any typical label. The Polypropylene film is 2.6 mils thick with a 50# liner making the overall label stock thickness of 7 mils. Using our newly formulated inkjet top-coating creates a label that repels and sheds moisture surprisingly well. Since the base material is a synthetic plastic, they can be used in places where a typical paper label cannot. PolyGloss labels have an aggressive permanent "all temperature" adhesive for use in hot and cold applications. PolyGloss works through desktop laser printers as well!
See for yourself here.
While LaserInkjetLabels.com has every confidence in the products we manufacture, all products do not perform identically on every application or through every inkjet printer. For this reason, we strongly encourage that you request a sample to be mailed to you, free of charge, so that you may test the label using your exact printer and application. To get your free sample, please go to our Contact Us page and request one there. This product is not recommended for use through High Speed Color Copiers.