A good place to start looking for your label and find it quickly is by going to our Search page found here: http://laserinkjetlabels.com/search-tab.asp.
 If you know your part #, just type it into the Search Box and it will take you directly to the page where you can add it to your cart.
If you are not sure what sizes we have, use the drop down boxes found on this page.  If you know you want a rectangle or circle, just click on the drop down box to view all the sizes we have.  Click on the size you want and you will be taken to a page that has all materials we have available in that particular size.

If you know what material you want but not the size, click on the grey navigation bars on the left side of our site.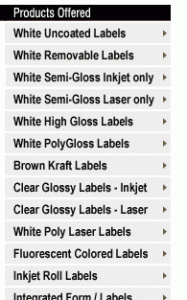 For example, click on Brown Kraft if you want our natural brown kraft adhesive labels.  You will be taken to a page that briefly describes these labels.  Just click enter on this page to view all sizes.  We list our sizes smallest to largest, with the width across the (portrait) sheet as our first number.  So if you are looking for a 2 x 4 label, you would find it with us under 4 x 2, since our configuration is 4 inches across the sheet and 2 inches down.
Don't forget that all our printing templates can be downloaded for free on our Templates Page.
Happy Labeling!