LaserInkjetLabels.com Custom Label Capabilities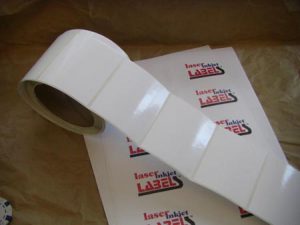 LaserInkjetLabels.com can custom create just about any size or shape of labels on 8.5 x 11 sheets of Inkjet and laser printable labels as well as any sized labels on Laser or Inkjet rolls.
Blank roll label sizes ranging from 1"-8" wide by 1" to 14" long (repeat). Millimeters within those ranges as well (about 25-200mm W x 25-350mm L). On millimeters, repeats will be in 1/8" divisible repeats label to label. Most devices "see" special gap repeats within .125" – .50" without any production hiccups.
Materials with general purpose permanent unless otherwise specified (subject to availability):
ViVid Gloss InkJet
Semi-Gloss InkJet
Semi-Gloss laser
Uncoated Plain White
Matte White with Removable adhesive
White Laser Polyester
Gloss White Poly Gloss (BOPP)
Matte White BOPP
5 Fluorescent colors – Red, Green, Orange, Chartreuse, Pink
Premium Matte White
Natural Brown Kraft
Clear Laser
Clear Inkjet
Other materials and adhesives are available for custom applications. Minimum order quantity may apply. Contact sales to discuss. Adhesive applications include all temp freezer grade.
Black bar printing on back of liner for sensor pick-up when needed.
Standard roll lengths of 100, 240 and 480 feet. (Approximate OD 4.25", 6" and 8" respectively).
Custom lengths from 100' to 5000'. ( Max finished OD of 24")
Label rolls can be finished on 1" (cored or coreless), 1.5", 2" and 3" ID cores. Labels can be wound in or out.
1 to 3 color with spot Pantone color matching and flexo printing on label sizes .5" to 6" width by 1" to 12" long. Additional tooling/set-up charges may apply. We can laminate with a clear polypropylene add durability or a more appealing finish to a label.
UPC and 3 of 9 barcode creation and printing. (We do not register or obtain UPC registration but can create code from numbers supplied.)
CMYK aqueous full color short-run (generally less than 10,000 labels depending on label size and configuration) digital label printing. Printed label sizes ranging from 2" – 8" wide by 2" – 12" length. (Note: sheets can be longer but corners will be squared)
Sequential numbering and barcoding available when digitally printed on roll label stock.