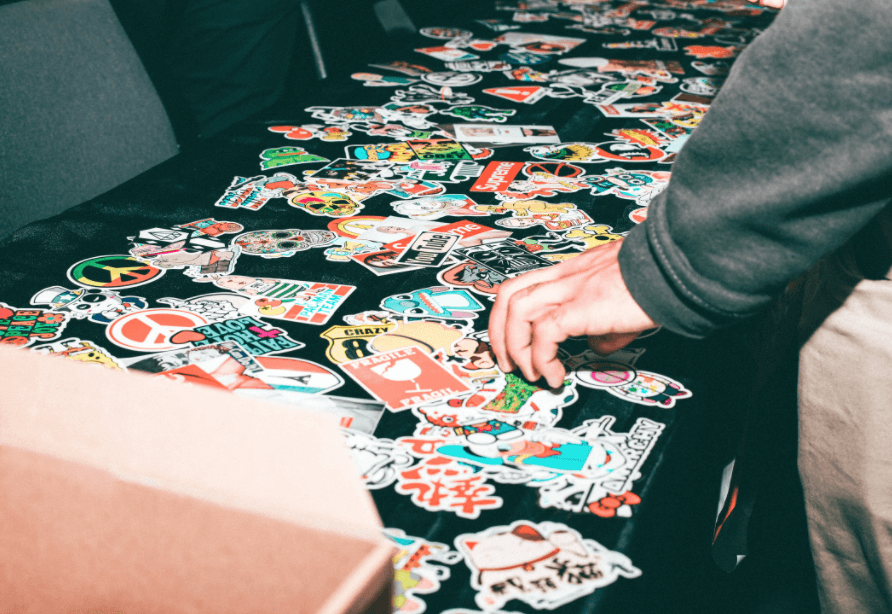 Are you looking for ways to customize your belongings? As a small business owner, are you thinking of ways to make your products more appealing? Or are you simply looking for creative DIY projects?
Consider making personalized stickers. Making your own stickers is a fun experience and has numerous benefits. You can adorn your possessions with decals you made yourself. You can also make stickers for planners and make everyday tasks less mundane.
Be it for personal projects or business, self-made stickers are a great way of adding a personal touch. You need the best sticker paper for making the ideal labels. An ideal sticker paper should be printer-friendly and easy to apply.
This article will discuss different types of sticker paper to help you decide which one is the most suitable for you.
Color
Sticker paper can be clear, white, or metallic, depending on the look you want to create. If you are intending to make defined stickers, you should opt for clear paper. For professional labels, white paper is more traditional.
The opacity of the sticker background will help you determine the color of the paper you should use.
Texture
Sticker paper is usually available in either a matte or glossy finish. If you want your sticker to have a rustic or paperlike finish, go for matte. This sticker paper looks like standard paper but has an adhesive back.
You can write on this material, and the ink will not smudge unless it comes in contact with water. You need to keep in mind that matte paper will not be as lustrous and vivid as glossy paper.
For the best glossy sticker paper, look for the high-end ones. They might be a bit more expensive, but they will not be flimsy, and the shine will last longer.
Printed stickers made with glossy sticker paper look more professional and resemble the ones manufactured in factories. This material has a glossy and smooth texture. It is difficult to write on this medium as the ink tends to slide off the surface and can smudge easily.
Temporary vs Permanent
There is a wide range of adhesive options. While there are some permanent stickers, there are also some stickers that are re-peelable. Re-attachable stickers can be removed and placed elsewhere without damaging the sticker.
It will also not ruin the surface it was previously attached to. This is very handy when you make an error and need to move a sticker. Many individuals do not prefer stickers that are detachable, but in some cases, they are suitable and necessary.
If you are opting for repositionable stickers, ensure that the material is high quality and will not destroy the surfaces you put it on. You need to keep in mind that re-attachable sticker paper costs more than the permanent kind.
Permanent sticker paper is useful when you have confidence in your ability to place them correctly the first time. They also have long durability.
Vinyl
Vinyl sticker paper has numerous benefits. It is stretchable, which allows easier application on both uniform and curved surfaces. It also has higher longevity and a nice, smooth texture.
Opt for printable vinyl sticker paper to make the process easier. You can find many versions that are compatible with your printer. The most commonly used vinyl materials are listed here.
White Glossy Re-attachable Vinyl
The smooth application of this material is easy as they have strong adhesive properties. It is resistant to water and outdoor conditions. It can also be removed easily and doesn't leave behind any sticky residue.
The uses and implementation of this type of sticker paper are incredibly versatile. It can be applied almost everywhere.
White Matte Re-attachable Vinyl
Matte vinyl stickers provide a more subtle and minimal finish. This material is also water-resistant, durable outdoors, and has no bubbles.
White Glossy Permanent Vinyl
This is the best sticker paper for industrial use such as warning and identification labels. The application is also easy. However, it is not bubble-free. It is ideal for outdoor use as it is very resistant and has high longevity.
Clear Removable Vinyl
This material is perfect for making clear stickers, window adornments, and stickers for business promotions. It is most suitable when you don't want any visible background.
It has a transparent outlook. You can apply it to glass surfaces and improve the aesthetics. The vinyl makes it resistant to abrasion.
Metallic Vinyl
Metallic vinyl gives a more aesthetically pleasing appearance. It has a reflective surface and can literally make your object look shiny. It is also quite durable. If you want to make holographic stickers that are also durable, you can use this material.
You can also opt for this material if you are planning to make glitter stickers. Metallic vinyl's quality is high, and the stickers made using it will last a long time.
BOPP
BOPP stands for biaxially oriented polypropylene. It is a plastic-derived material and is suitable for attaching to objects that are subject to constant wear and tear.
White Permanent Glossy BOPP
This material is very resilient. It is resistant to scratches, heat, and oil. Its glossy finish gives it a sophisticated appearance. The details of the writing and the art of the sticker will be very vivid when this material is used. It also generally costs less than the white vinyl versions.
White Permanent Matte BOPP
This is ideal for making labels that can be written on without ink smudging. You can write with pens, pencils, or markers on this sticker. This gives you more freedom to add a handcrafted finish with your own calligraphy and drawing.
As it does not have any protective layer like a laminate, it offers reasonable longevity. This material allows you to give a natural, organic appeal to your products.
Transparent BOPP
Transparent BOPP has all the qualities and benefits of the regular white BOPP with the addition of having a clear background. If you desire the object to be visible through the sticker, then this will be the most suitable option.
Overview
Stickers have many functions and are very useful in making objects look more appealing. They are incredibly useful and are very handy when you are organizing your things.
Making your own stickers is an exhilarating experience where you can put your creative juices to good use. One of the essentials of DIY stickers is sticker printer paper.
Make sure to opt for one that is compatible with your printer. Hope this article helped you in finding the best sticker paper for you.